Do you want to improve your bull riding skills?  Or just have fun?  Well, this mechanical bull looks great, eats nothing, and is happy to stand around when not in use!  What a deal.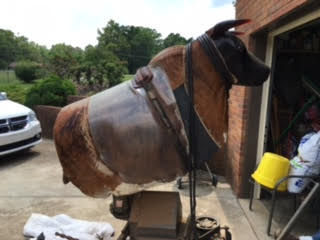 This Rockin' B Mechanical Bull has been just offered for sale.    Are you familiar with Rockin' B mechanical bulls?
Rockin' B  Mechanical Bulls / Bucking Machines were developed by  a former bull rider – Bill Beaty.  He manufactured the Rockin' B  mechanical bulls in Cheyenne, OK.      According to the  Bill's website:   " Rockin' B bulls were marketed all across the U.S. and to many countries around the world.  The bulls were used for rodeo training by top cowboys such as Ty Murray but also used for entertainment purposes by artists such as Brooks and Dunn and Brad Paisley, etc."   
This particular mechanical bull has been standing in the garage for a while.   He's only been used about 20 times.    He runs on 220v.    This mechanical bull is located in North Carolina.
If this mechanical bull or any of our others are of interest, be sure to check out Used Mechanical Bulls for Sale  
Be sure to let us know if you have any questions.
Sondra