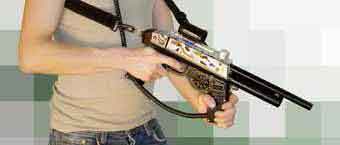 After 2 years of development Pursuitzone has received the Markston Sports Outdoor laser tag system to market with deliveries going out in August.
I introduced it at last years IAAPA trade show to rave reviews and 300+ interested end users. Pursuitzone is delivering these outdoor/indoor player units to a criminal Justice Program in Ohio.
One of the unique features/options for the outdoor usage is the GPS screen function. This enables the player to see where the base and recharge stations are relative to their position on the field day or night!
It also depicts where the other team player's positions are in relation to each other.. point, left, right, backup and a compass.
Some of the other features can be seen on www.pursuitzone.com in more detail such as machine gun mode, ability the change number of clips, shots/clip, lives, and much more using the state-of-the-art software package.
All this can be run with a simple key-fob as it is all radio based.
For more information call Pete Schwartz @ 877-484-9621 for a quote and availability of this very unique product to hit the laser tag industry.