The New Makoto Arena II Fitness Arcade Game will knock your socks off!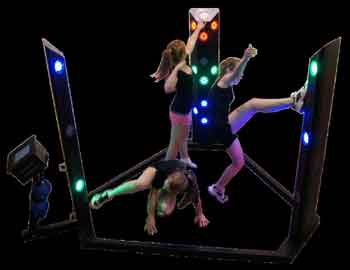 It just keeps getting better and better…!
Delivering fun fitness since 1996, Makoto has learned a thing or two about energizing and entertaining youth.
If your looking for a games that is both fun and challenging this is it. Your customers will get so immersed in the challenge they will forget they are not only sharpening their mind but they are also getting great exercise.
So you ask – what is Makoto?
Well Makoto Fitness Arena is a triangle with durable 6-foot steel towers rising from each corner. Using your hands, feet, and/or staff, you respond to random audio and visual prompts before they move to the next light (actually hitting the lighted area).
Your reaction times and accuracy are measured electronically so you can compete with yourself or others. The speed of the prompts is adjustable for varying abilities.

The New Makoto Arena II is completely redesigned!
Features Include:
– Easy touch-screen interface
– New full-color LED targets
– Now 12 targets per tower!
– Optional floor pods give the arena nearly 50 targets to engage players
– Windows 7 computer allows for more powerful programming
– New games allow competition between the towers
– Computer can track students/patients' progress and export data
– New sound themes available !
– Integrates with new Makoto Wall!
Don't miss ESPN's show called "Rise Up"
Makoto will be featured on the final show ESPN is airing on the 4th of October.
Click here to learn more about Makoto Fitness Arcade Game