Mechanical Riding Bulls and Simulators for Sale
For a limited time – Ask about free shipping
If you are Looking for a Mechanical Riding Bull, Horse, Dolphin or even a Riding Bottle We have what you are looking for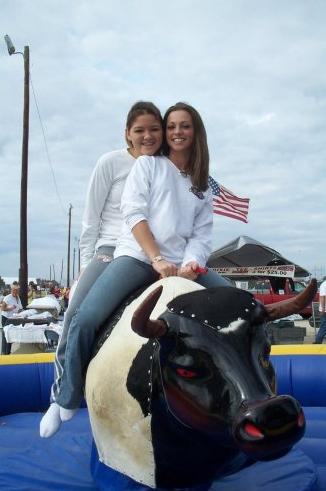 All of our Mechanical Rides are of the highest quality and use the very latest in technology and Design
Rides that are made for Fun and Excitement and keep your customers coming back
Complete mobile LASER TAG System
For A Very Limited time This is only $8000
This is a Laser-Blast Laser Tag system that comes COMPLETE with 8 Laser Guns, Custom Road Case, and a HUGE inflatable arena!
Ready to go so you can make money now!
Click Here to learn more about this Mobile Laser Tag Equipment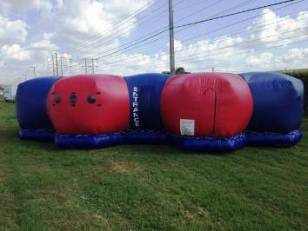 This is a limited time offer and wont last long
Zone Laser Tag's Portable Laser Tag Equipment – Begeara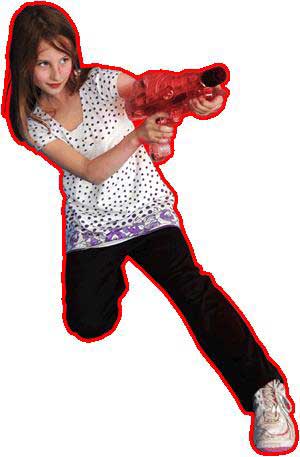 The Number 1 Mini Laser Tag System sold in the Softplay and Inflatable laser tag games market today.
The all-new Begeara 2 Laser Tag Equipment is the most advanced portable laser tag equipment on the market, yet is simple to operate. Simply open the sturdy case, issue the Phasors to the Players, plug in the Base Station, and start earning money. No computer is required,and managing games is simple, fast and stress-free with the Hand Held Mission Controller. Players will experience state of the art technology and a game play experience that will keep them coming back for more.
Markston Sport Outdoor laser tag at its very finest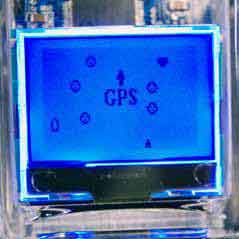 Markston Sport Outdoor laser tag brings a hole new level to the paying field. With the new GPS / COMPASS in the worlds first laser tag gun that gives you real time information as to where you are in relation to others around you.
Just like what you see in the movies, Markston Sport introduces its amazing new Field Navigation Pack, utilizing GPS and a digital compass to indicate the position of teammates. Objects located within 200m of the player are displayed on the screen in a manner that allows players to determine where you areand approximate distance.
Also the Markston Sport MS4 and its accessories represent more than one style of operation. The MS4's features and modes of operation that no other laser tag gun offers you makes it the most flexible Laser Tag system on the market today.
Stand out from the competition with these fabulous features no one also can offer you.
Come see this exiting new outdoor laser tag product and give us a call so he can answer any question you may have.
Infusion Laser Tag at Bottom Prices
We have been taking in a number of used
Infusion Laser Tag Systems on trade and are
now authorized to offer this Refurbished equipment at
discounted prices
Portable Bumper cars for sale
Mobile Sky Bumper cars for sale
Come see these Trailer mounted Bumper cars  that are in great condition and 100% functional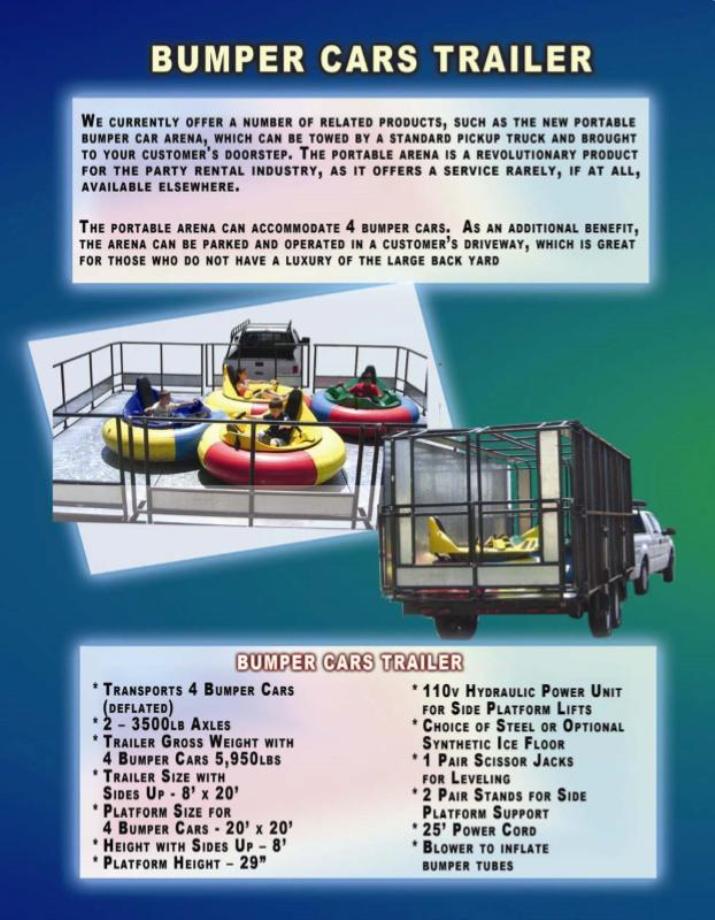 Mobile Bumper Cars
Archery Tag – What is it?
Archery Tag is the newest phenomenon in friendly combat sporting. Archery Tag gives the
Bow and Arrow a brand new twist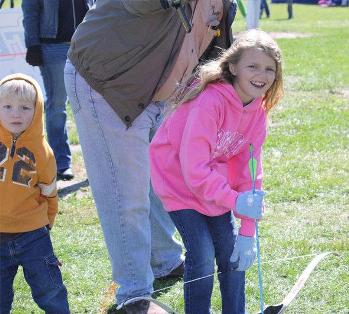 This is the new paintball with out the mess
With foam tipped arrows, you are in competition to see who is the best hunter
Archery Tag is a game of survival
You will master the art of hunting with a bow and arrow as you duck and hide not only to keep from getting tagged by an arrow but to tag youropponents
Archery tag is a high energy and fast paced event
Make sure you know who is around you
Remember the hunter is also the hunted
Archery tag can be played almost anywhere – indoor or outdoor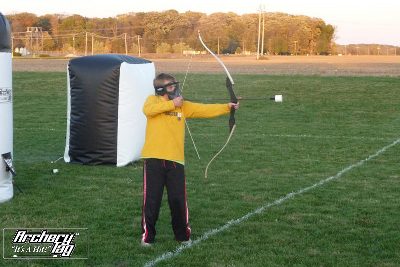 Create a mobile amusement business or add to your existing family fun center.
This new attraction is sure to entice a whole new customer base with its unique challenge.
You can set up Archery Tag almost anywhere.
With the inflatable obstacles to hide behind you can have an exiting fun filled workout in no time.
Click Here to learn more about this Archery Tag amusement game
Laser Tag / Paint Ball Inflatable Bunkers
You really should take a look these versital inflatable barricades.
They have only been used indoors for 1 year and are in New Condition
Includes: over 20 barrieres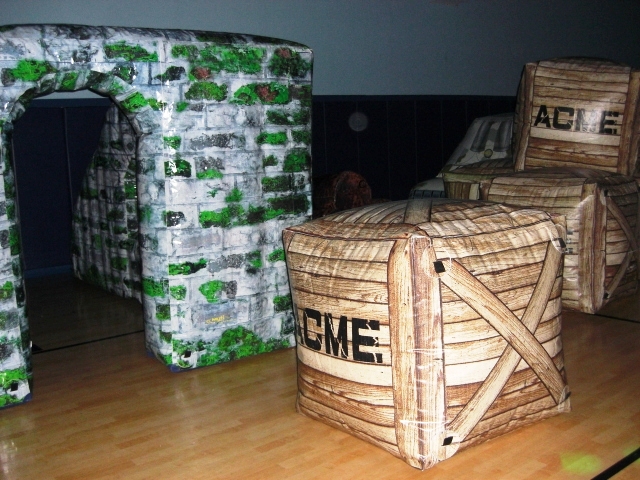 Used 6 climber auto belay system For Sale

 This is a really nice well maintained Climbing wall
The New Makoto Arena II Fitness Arcade Game will knock your socks off!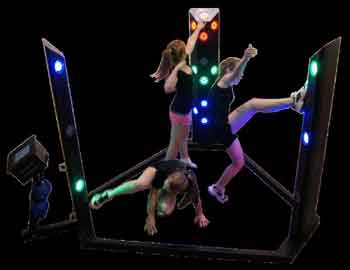 It just keeps getting better and better…!
Delivering fun fitness since 1996, Makoto has learned a thing or two about energizing and entertaining youth.
So what is Makoto?
The Makoto Fitness Arena is a triangle with durable 6-foot steel towers rising from each corner. Using your hands, feet, and/or staff, you respond to random audio and visual prompts (actually hitting the lighted area).
Your reaction time and accuracy are measured electronically so you can compete with yourself or others.
The speed of the prompts is adjustable for varying abilities.Now – the New Makoto Arena II is completely redesigned!
- Easy touch-screen interface
- New full-color LED targets
- Now 12 targets per tower!
- Optional floor pods give the arena nearly 50 targets to engage players
- Windows 7 computer allows for more powerful programming
- New games allow competition between the towers
- Computer can track students/patients' progress and export data
- New sound themes available !
- Integrates with new Makoto Wall!
Click to learn more about the Makoto Fitenss Game
The "Actual" Climbing Walls From the TV show The American Gladiator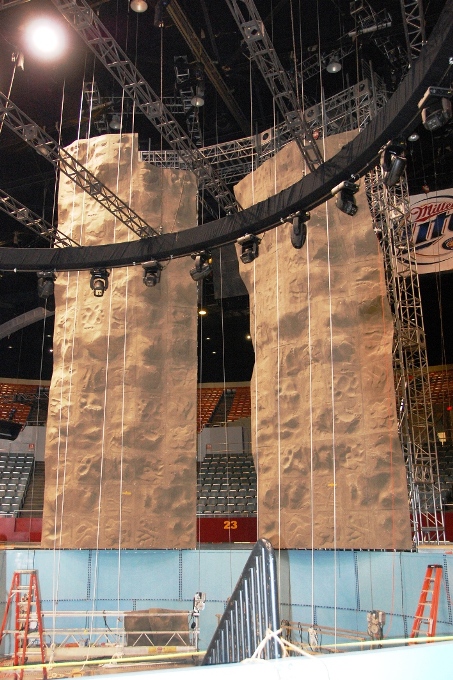 Limited Time Offer
Buy Both Of these Walls for Just
$29,999
These Beautiful indoor/outdoor, wall panels systems made by Entre Prises OR. Org.
We are also willing to break this system up into smaller sections for your needs
Give us a call and make your offer Today before it is gone
Click Here to learn more about this Climbing wall that is for Sale